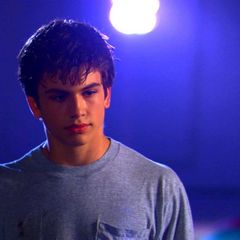 David Childers is the soccer-playing son of Larry Childers. Shiloh Christian Academy, David's new school, does not have a soccer program, so he decides go out for football as a second-string kicker. David is disheartened by his small frame and lack of knowledge of football, but his father encourages him.
David Childers is portrayed by Bailey Cave in Facing the Giants (film).
Biography
Edit
David enrolled in Shiloh Christian Academy his junior year, having just moved to the town with his father, Larry Childers, who has MS. He played soccer, but since Shiloh did not have a soccer team, he tried out for the football team as a second-string kicker.
He is conscious of his small size and limited football skills, and is not confident that he will even kick the ball straight. This affects him greatly when, at the state championship, David had to kick a fifty-one yard field goal into the wind in two seconds to win the game after the main kicker is injured. Previously, the farthest he had kicked was thirty-nine yard field goal, and he protested against Grant's decision. The coach encourages him, telling him to give his best and God will take care of everything else. Larry, who had MS, stands up for his son, holding his arms up in the shape of a goalpost.
The wind changed and David kicked a fifty-one yard field goal straight through the goalpost, winning the state championships for the Shiloh Eagles.